IEC responses to enquiry received from Missions, which may be of assistance to first time voters
Question: Are the first time voters, who registered for the first time at the Mission required to complete VEC10 forms, as their voting station is already listed as Berlin for example?
Answer: All registered voters abroad MUST complete the VEC10 online application form. There are no exceptions. Anybody who is abroad and registered and does not complete the VEC10 will not appear on the voters list for out of country voting and will not be able to vote. The place of voter registration will not impact on a person's ability to vote in 2019 national election. What is critical is that each registered voter submit a VEC10 template on www.elections.org.za before 13 March 2019 to indicate at which mission they intend to vote on 27 April 2019. The latter determines at which mission a voter will be eligible to vote.
Registration of South African First Time Voters at Missions Abroad, including Berlin closed on the 26th February 2019 for the NPE 2019 elections, registration remains open for any person who requests to be registered for upcoming future National Provincial elections.
Die Botschaft schließt Freitags um 13:30 Uhr
Bitte beachten Sie, dass die Botschaft der Republik Südafrika seit dem 1. Juli 2018 Freitags um 13:30 Uhr schließt. Die Öffnungszeiten der Konsularabteilung (Visa & südafrikanische Dokumente) ändern sich dadurch nicht. Bitte |+| hier klicken, um zu den Öffnungszeiten zu gelangen.
In den Sterkfontein-Höhlen
liegt die "Wiege der Menschheit".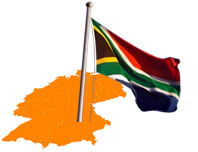 Südafrika
in Deutschland
Konsular
|+| Visum
Einreisebestimmungen für deutsche Staatsbürger
|+| Daueraufenthalt
Voraussetzungen
|+| FAQ
Informationen zu Themen wie Eheschließung, Beglaubigungen von Unterlagen, …