VOTING ABROAD IN THE 2019 NATIONAL ELECTION
Voting abroad is scheduled for Saturday 27 April 2019 from 7:00 to 19:00 at embassies, high commissions and consuls of the RSA.
The date of voting abroad is not on the same date as voting inside of the Republic of South Africa on 8 May 2019.
Between 26 February 2019 and 13 March 2019, and by way of submission of a VEC10 notification, registered voters who intend to vote abroad were required to notify the CEO of the IEC of their intention to vote abroad, and at which mission they intend to vote abroad. The VEC10 notification template was available on www.elections.org.za but is now closed for voting in the national election of 2019.
To check whether you are eligible to vote abroad in the 2019 national election, go to www.elections.org.za/IECOnline/Check-My-VEC-10-Notification-Status-Q1
Also, when you submitted your VEC10 form you should have received a SMS or email notifying you of the outcome of your application to vote abroad.
On voting day abroad on Saturday 27 April 2019 from 7:00 to 19:00, voters will need to present themselves in person (voting cannot take place through a proxy or remotely) at the same embassy, high commission or consul indicated in their VEC10 submission, and take with them to vote their South African identity document (either green barcoded ID book, smart ID card, or valid temporary ID certificate) AND their valid South African passport. Please note that only an original identity document/smart card/TIC, and passport are permitted – and not copies.
The Embassy incl. the Consular Section will stay closed on 26 April and 1 May 2019
Please note that the Embassy of the Republic of South Africa including its Consular Service will stay closed on Friday, 26 April 2019 as well as on Wednesday, 1st May 2019.
South African Embassy in Berlin Closes Fridays at 13h30
Please note that since 1 July 2018 the Embassy of the Republic of South Africa in Berlin is closing at 13h30 on Fridays. The opening hours of the Consular Services (Visa & South African Documents) are not affected by this - please |+| click here to download the opening hours.
South Africa has
the third highest level
of biodiversity in the world.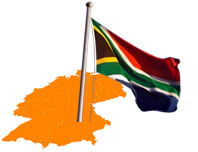 South Africa
in Germany
Consular
|+| Visa
Visa regulations for German citizens
|+| Permanent Residence
Read the requirements and conditions, get the necessary forms
|+| FAQ
Information on issues like marriage, attestation of documents etc.