Measures taken by the South African Embassy in the context of the COVID-19 pandemic
In support of the measures taken by the Government of the Federal Republic of Germany to contain the spread of COVID-19 and the protection of personnel, the Embassy of the Republic of South Africa will close as of 19 March 2020, until further notice with non- essential staff required to work from home. The Embassy of the Republic of South Africa will continue to provide essential and urgent consular services.

The Embassy will continue to observe the situation and provide further updates about any change in the status of operations.

Closure of Consular Office
Please note that due to the travel ban, no foreign nationals who depart from Germany will be allowed to enter the Republic of South Africa, therefore no visa applications will be processed. For urgent civic services matters please send email to Berlin.dha(at)dirco.gov.za
South Africa Imposes Travel Ban on all Foreign Travellers from Germany from 18 March 2020
Please note that the Republic of South Africa is imposing a Travel Ban on all Non-South African travellers from High-Risk Countries including Germany, starting 18 March 2020. No visas will be issued to visitors from those countries and previously granted visas are hereby revoked. More information |+| here
The Sterkfontein Caves
host the cradle of mankind.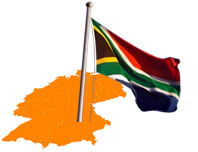 South Africa
in Germany
Consular
|+| Visa
Visa regulations for German citizens
|+| Permanent Residence
Read the requirements and conditions, get the necessary forms
|+| FAQ
Information on issues like marriage, attestation of documents etc.