Operational Arrangements for Immigration (Visa) Services at the South African Embassy in Berlin
All visa applications must be submitted in person to the South African Embassy in Berlin and the South African Consulate General, and without prior appointment. All visa applications submitted by courier/post not be considered and will be sent back to the applicant.
Application for visas and permits will be on Tuesdays and Thursdays from 9am to 11 am, effective 1st August 2023.
(https://www.suedafrika.org/downloads/Business_hours.doc)
Due to system problems, the turnaround time of visa applications and processes will regrettably be delayed from 10 working days (when stated) to 15 working days. Applicants are kindly requested to be patient, while the Embassy is addressing the matter.
Your understanding is appreciated. We regret inconveniencies caused and appreciate your understanding.
Visitor Rules
All visitors to the Embassy are required to present their ID to the Embassy's receptionist upon arrival. In turn, visitors will receive an Embassy visitors card, which needs to be carried by visitors for the duration of their visit. The Embassy visitors card need to be handed back to the receptionist on departure at which time the visitors ID will be returned, too.
Visitors are also required to adhere to the following:
No weapons are allowed on the Embassy premises.
No pets are allowed.
No food or beverages allowed.
No wandering around the Embassy premises is allowed.
Bicycles are not allowed on the premises.
The use of cell phones is not allowed.
Taking pictures in the Embassy is not allowed, whether by camera or phone.
The reception area should be quiet.
South Africa has
the third highest level
of biodiversity in the world.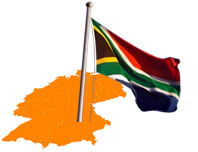 South Africa
in Germany
Consular
|+| Visa
Visa regulations for German citizens
|+| Permanent Residence
Read the requirements and conditions, get the necessary forms
|+| FAQ
Information on issues like marriage, attestation of documents etc.