South African Embassy in Berlin Closes Fridays at 13h30
Please note that since 1 July 2018 the Embassy of the Republic of South Africa in Berlin is closing at 13h30 on Fridays. The opening hours of the Consular Services (Visa & South African Documents) are not affected by this - please |+| click here to download the opening hours.
The Embassy incl. the Consular Section will close at 11:00 on 21 September 2018
Please note that due to our Heritage Day the Embassy of the Republic of South Africa including its Consular Service will close already at 11:00 on Friday, 21 September2018. The Embassy will be open on Monday, 24 September 2018 during the usual business hours.
South Africa's investment in
education has tripled since the
end of apartheid. At 6.6% of the
country's GDP and 17.7% of total
government spending, the
country's education spending
rate is among the highest
in the world.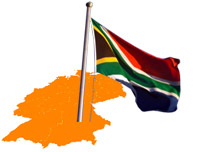 South Africa
in Germany
Consular
|+| Visa
Visa regulations for German citizens
|+| Permanent Residence
Read the requirements and conditions, get the necessary forms
|+| FAQ
Information on issues like marriage, attestation of documents etc.